Proper Care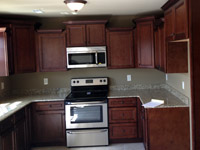 Remove Dust: Dust is made up of small, airborne particles, which can build up and may scratch or dull the surface if not removed correctly. Simply wipe the surface with a cloth dampened with a cleaning polish or mild detergent.
Clean: Oil from fingerprints, cooking fumes, smoking residue and other contaminates accumulate on any finished surface. None of these contaminates will harm your finish but should be periodically removed to restore the finish to its original luster. Just wipe the surface with a cloth dampened with a polish that doesn't contain wax, or mild detergent solutions. Use of ammonia-based products and silicone oils may cause damage if used over a long period. Clean only as often as needed to keep surface contaminates from building up on your cabinetry.
• After installation, cabinets should be cleaned thoroughly with a non-abrasive (mild) soap and water applied with a soft, lint-free cloth. (We suggest Murphys Oil Soap brand) Dry immediatly and repeat this two or three times yearly. Even though your cabinets have one of the most durable finishes available, they will not withstand repeated exposure to soap and water so please try to limit this.
• Make sure to wipe off spills immediately. Water will weaken and start to crack the finish.
• Polish your cabinets sparingly because polish builds up over time and will affect the natural beauty of your cabinetry. Always use a good quality polish that does NOT contain wax or silicone. (We suggest Cabinet Magic brand)
• In areas where grease build up is a problem, use a water and vinegar solution. This will remove the grease without leaving a residue behind.
This finish is durable, but spills should be cleaned properly. Also excessive exposure to direct sunlight, high temperatures and high humidity can cause damage to the finish and the wood itself.